Plano

High School




Class Of 1970
Welcome Plano High Class Of 1970

The Reunion will be here soon! Registration price is $32 per person. Final registration is on September 30th. If you're a member of this site, you can access the Reunion Registration area 'CLICK HERE -50th (plus one) REUNION' link at the top left in the yellow side bar menu.
If you're not a member yet, to register and access the restricted areas, click on "Classmate Profiles," find your name and click on it. Then, click on "Join Here." Please provide enough information in your profile when you register to be identified or send a separate email identifying yourself so your account can be activated. If you are not on the list of names, please send an email through "Contact Us" on the left menu. We want to find you!
We need your help so please pass the word to anyone you know who is on the 'Classmate Profiles' list (in the yellow side bar menu). If they haven't already joined this website, please encourage them to join so they can access the Reunion Registration link, too.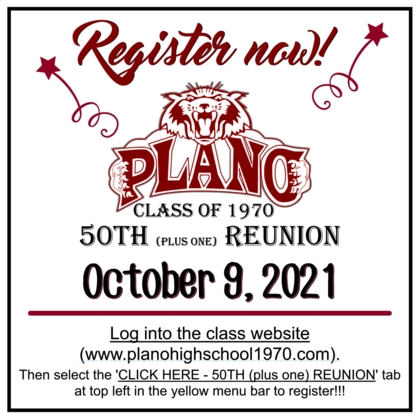 SITE PRIVACY & SECURITY
Our class owns the domain and creates the content of this site. This website keeps every member's profile private and secure. Only fellow classmates can see profiles and other protected pages, and all contact information is visible to other classmates only if a member chooses to make it so.
If you have questions regarding the privacy or security of this site, please send an email through "Contact Us" on the left menu.
---
ANNOUNCEMENTS
•

We have "Classmate Chatter" in the restricted section of this site. You can post to current topics or add new topics in the Classmate Forums. Take advantage of it and keep in touch!

•

Thank you Randy Cothes for renewing our site for it's second five year period and Debbie Morrow-Hays for extending that five year renewal an additional five years! And, thank you, again, to everyone who offered to contribute to the cost of this renewal!

Our account is now paid until November 2025!

Again, thank you Jimmy Ingram for paying for our first five years in 2010.